Aw, yes. How we all love the mad rush during the holiday season. Projects, final exams, Christmas shopping, and holiday parties keep us all busy, but then melt away with the stress as we travel home for holiday. As the to-do list grows over the next couple of weeks, remember to breathe (and drink coffee). *Sponsored by BetterBuzz. **Just kidding.
I decided to challenge myself during the hectic holidays. The best present you can give this holiday season is your presence. Your body, your mind, your spirit- keep it close and exude it out to those you surround yourself with. I am challenging myself to be the one to put my phone down. To be the one who looks their friends and families in the eyes and engaged with the conversation. To be the one who listens and is simply there for someone, instead of hashing out advice. There's nothing better to give your friends and family other than your undivided attention and love.
I encourage you to do the same.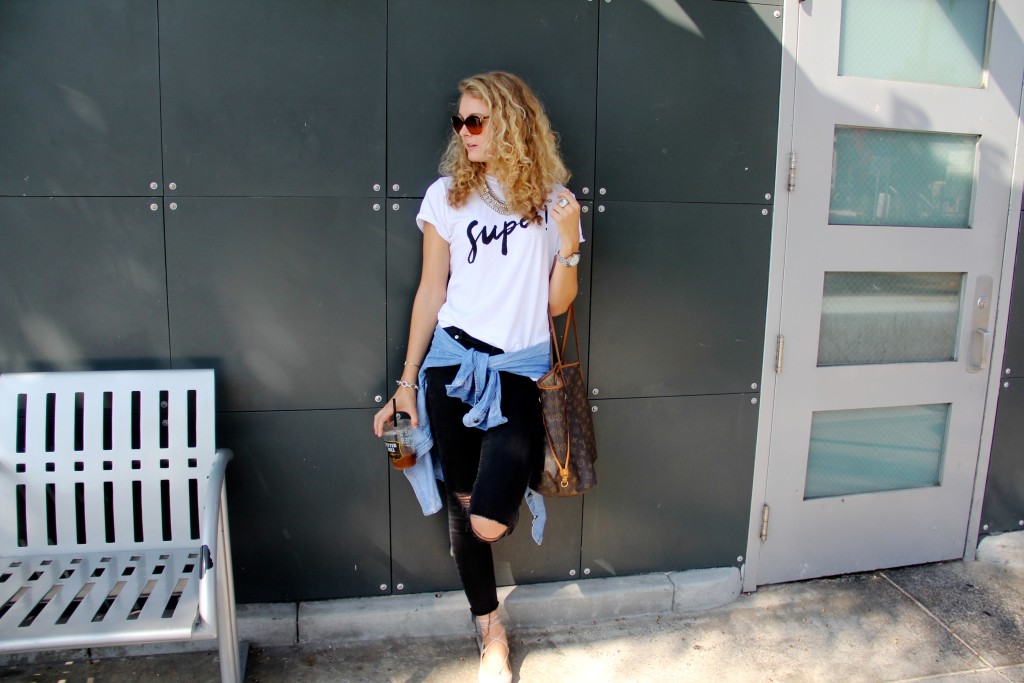 Embodying this new mindset, a new and instantly close friend and I got coffee this week.  We were both so engaged in our conversation (about brunch, boys and blogging, naturally) that our coffee went cold and the time slipped away with the sun. How refreshing to be fully in the moment!  I challenge you to do discover this same sense of connection; you don't want to miss out on something so special.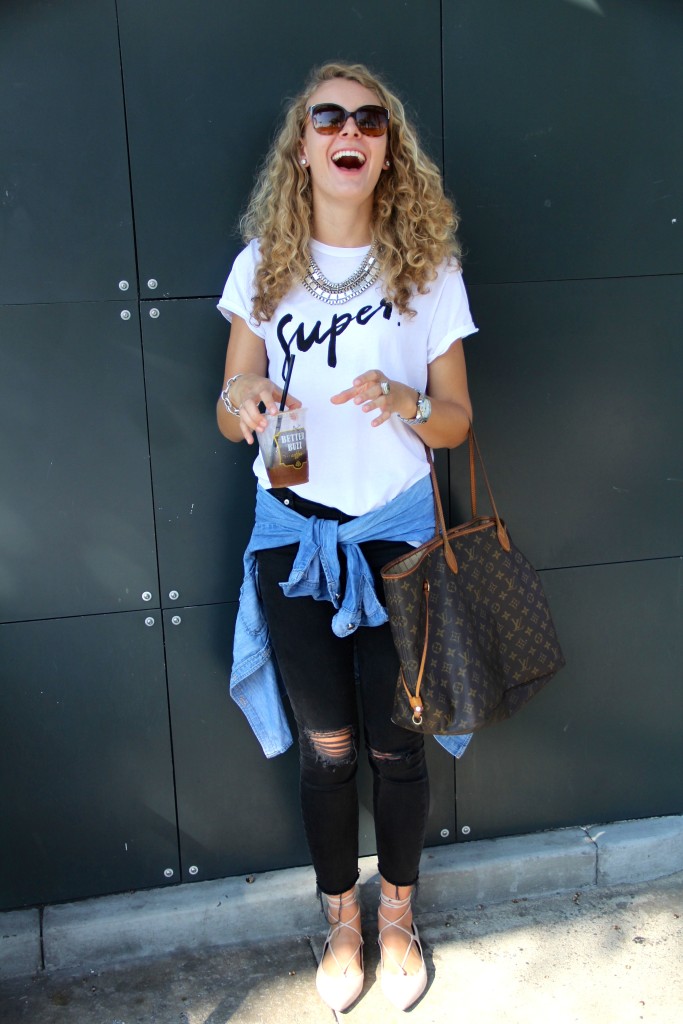 I'm sporting my go-to chambray shirt in a faded light wash with copper buttons, which is perfect for a casual outing like getting coffee. San Diego weather changes quickly, so when it gets too warm, it's easy to throw around your waist. I also wore my simple graphic T, which is my new favorite from Simply Jules (check her site out here).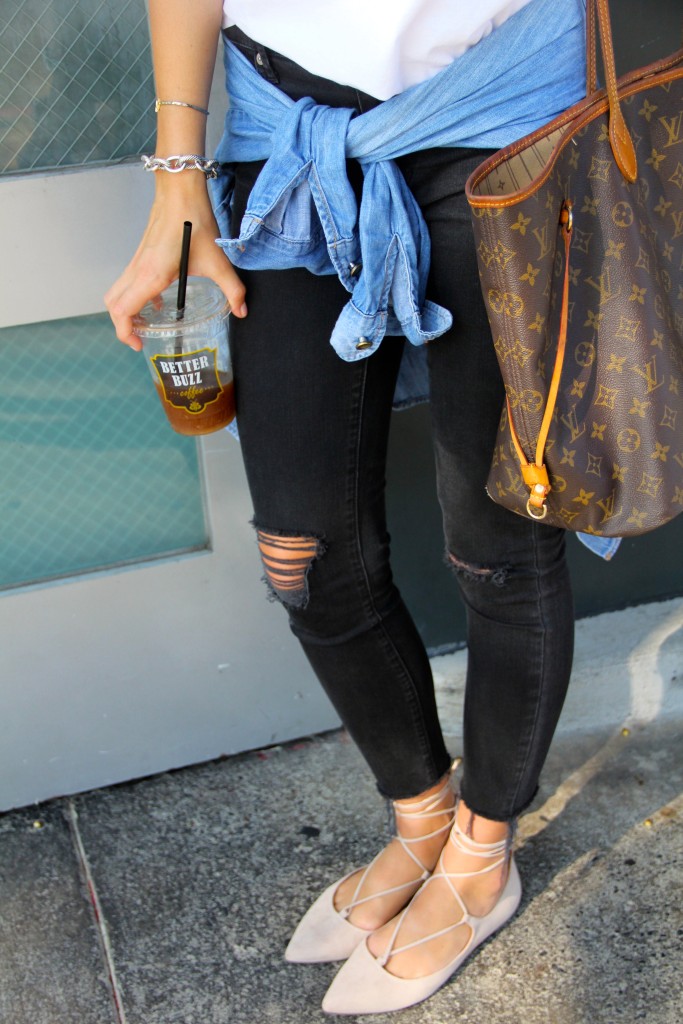 Distressed denim is a classic and edgy look that I am currently obsessed with because it instantly adds an effortlessly cool factor to any outfit. I'm also in love with this faded black wash.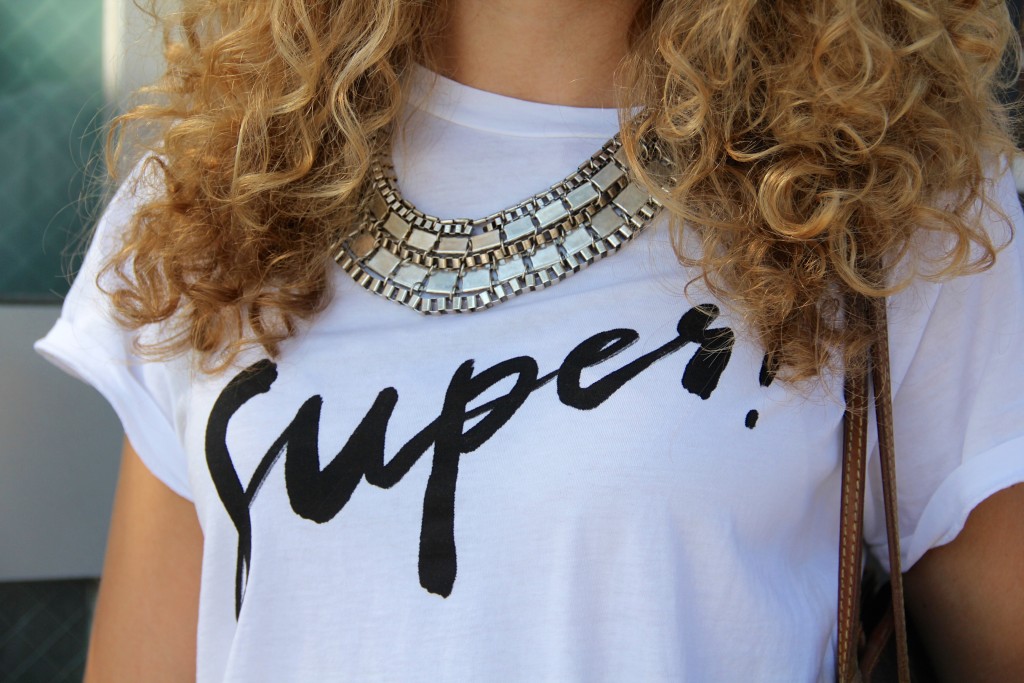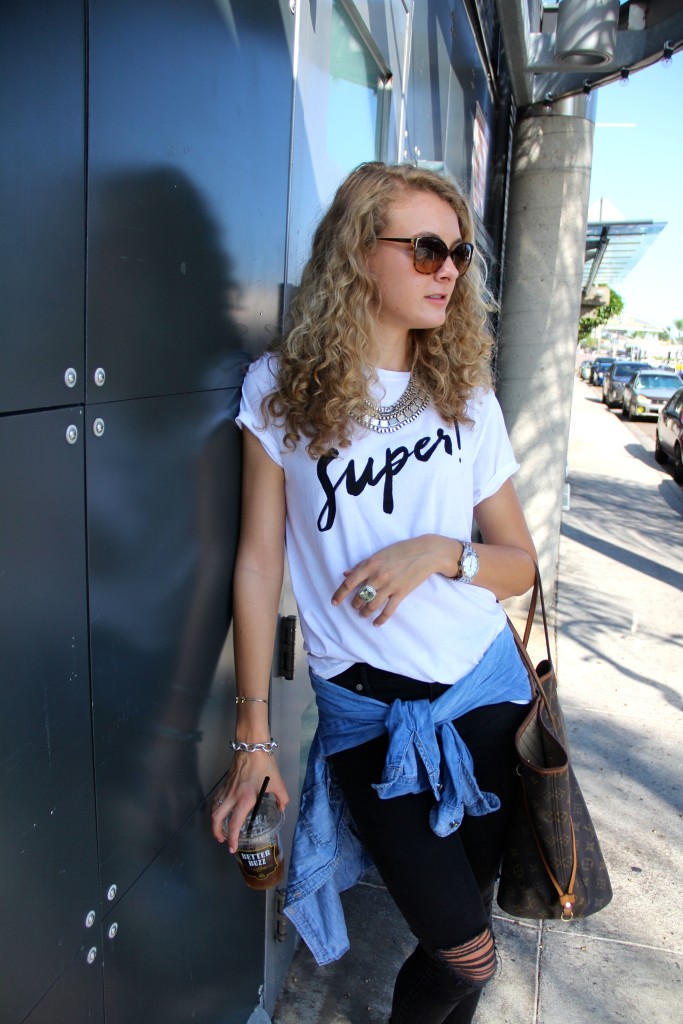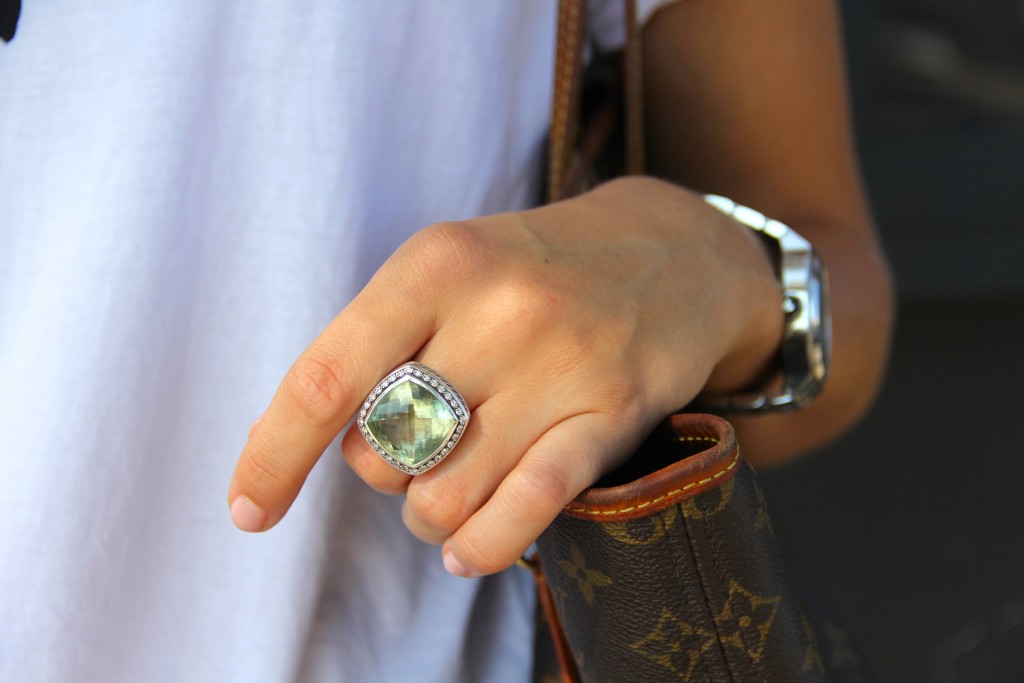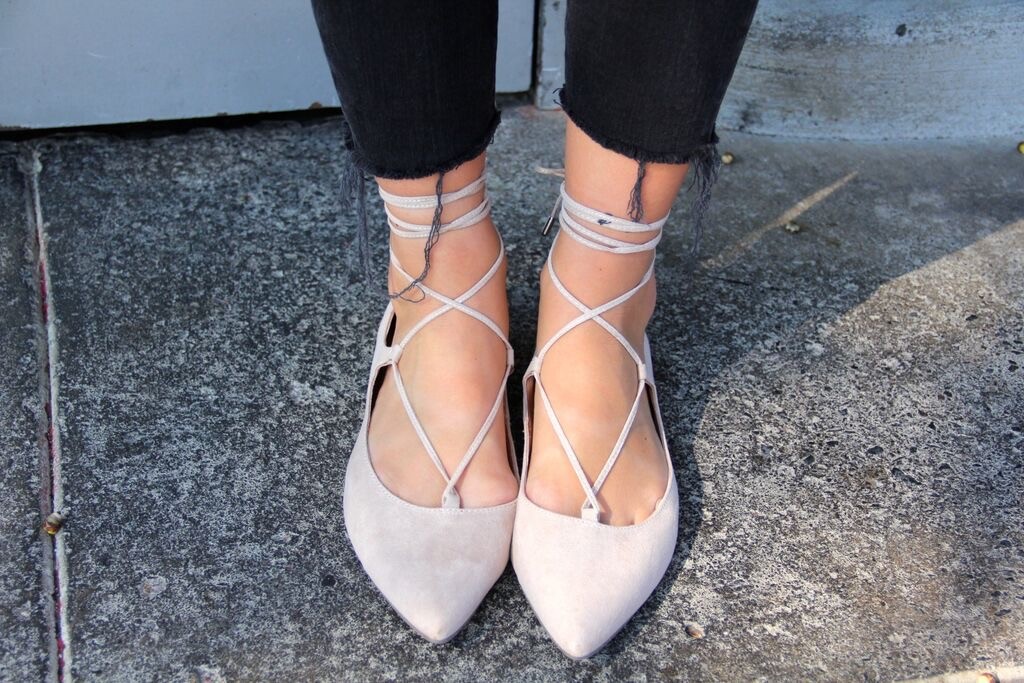 Ankle wrapped flats are a great item to have in your closet, even in the cooler days of December. Blush and neutrals are also fantastic colors to wear to keep your look fresh and clean.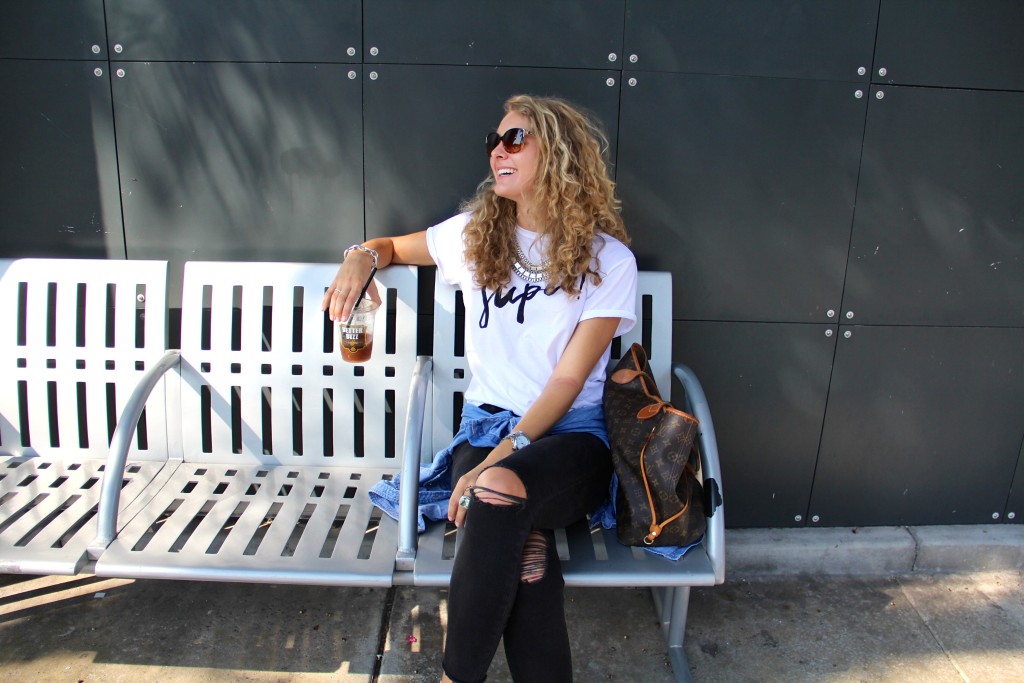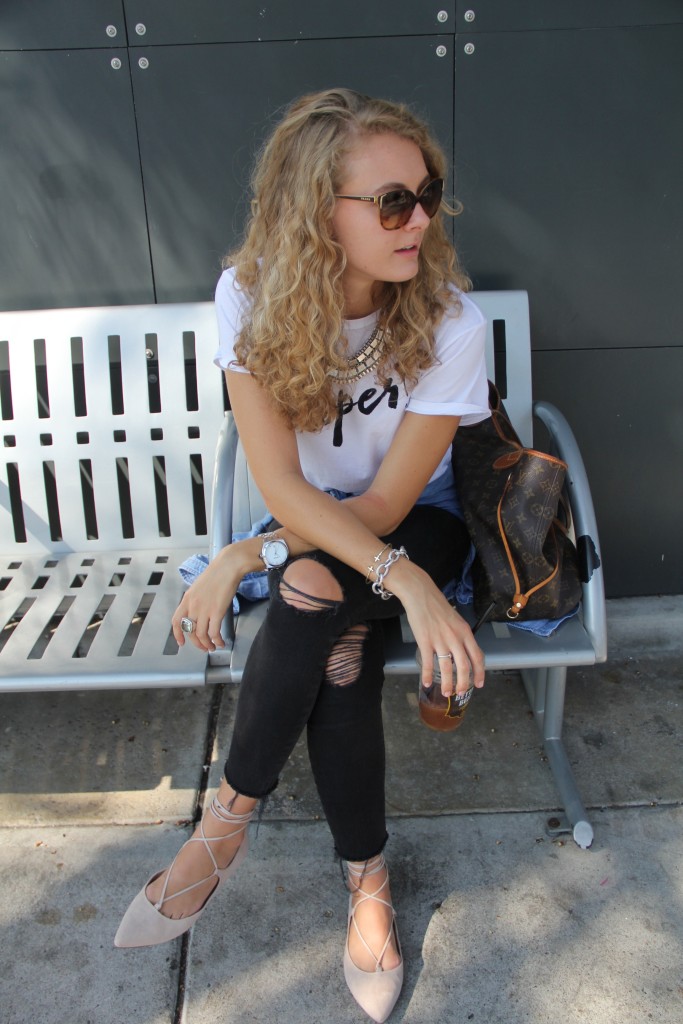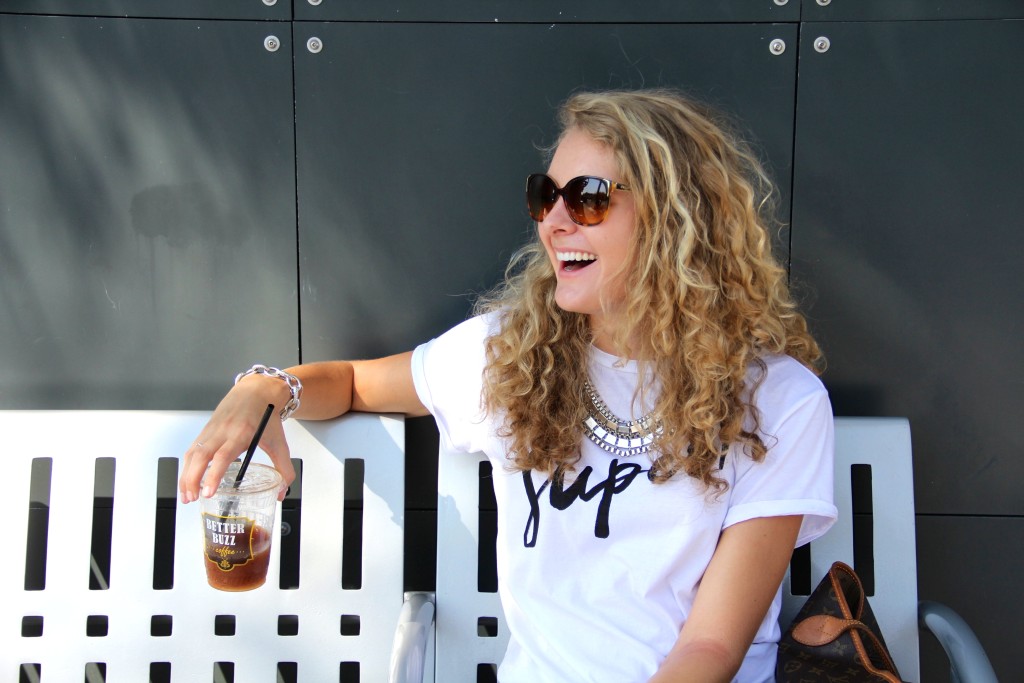 SINCERELY JULES "super" shirt
MADEWELL destroyed denim
CURRENT/ELLIOTT denim shirt
STEVE MADDEN lace up flats
Remember- breathe and be in the moment. Isn't that what life is all about?
Like this look? Comment below!
xx Rainy
*Photo Credit: Claire DeMarco