Heading home for the holidays is my absolute favorite. Home cooked meals, drinking wine by the fire, playing with my dog. Perfection. The traveling through a crowded airport part, not so much. It can be extremely stressful: How early should I get to the airport? Did I bring my ID? I hope I packed enough socks… Oh no, my phone did NOT just die! The number of things that could go wrong are endless, so wearing a comfortable outfit is high on my priority list when it comes to traveling through an airport. My typical round trip is SD –>SLC, so I generally look disheveled when leaving the always sunny and 72° San Diego carrying a North Face jacket and blanket scarf, while wearing my over-the-knee boots as I head to below freezing temperatures. So you can see that I am in serious need of airport outfit inspiration that makes me feel more organized and cool.
I know, I know. Figuring out what to wear on the plane is one more item to add to the stress list of traveling. Have no fear: this guide on how to dress at the airport will never let you feel out of sorts again. Below are my favorite looks of celebs spotted at the airport (shouldn't they have a private jet..?) where I'm looking to for inspiration on what to wear when flying home this week: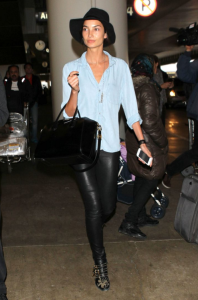 Lily Aldridge. Need I say more? I adore how she sports a light wash chambray shirt with casually rolled sleeves with a pair of leather pants. Gold studded booties are a great way to stay comfortable, while looking fabulous at the same time. Her wide brim hat is the perfect touch for effortlessly chic vibes.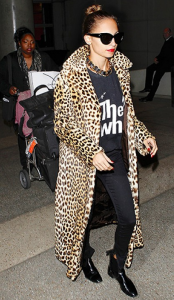 Time to take notes from the Queen of Boho Chic herself, Nicole Richie. Always looking put together and edgy, she wears a graphic band T with skinny black denim. Her statement leather booties keep her look classic. Throwing a leopard print coat on was the best decision she could have made because she looks incredible and can stay warm on the plane at the same time. Her chunky necklace, dramatic sunglasses and red lip top her outfit off.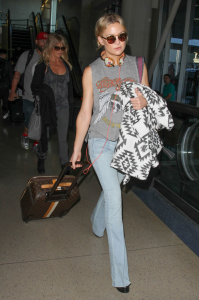 Kate Hudson dominates in the comfort category. A gray graphic T paired with light wash denim is one of my favorite looks. The bootcut jeans keep her airport look edgy and interesting. The patterned jacket continues her cool factor with the neutral tones that tie in perfectly with the rest of her outfit. Paired with a killer set of headphones and your'e set.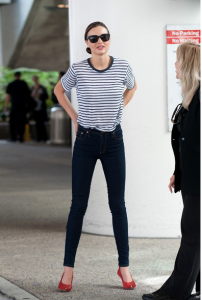 Okay, really? Only Miranda Kerr could look this fabulous in a T and jeans. Luckily it's a look that we can all pull off at the airport. A striped, comfortable shirt tucked into a pair of dark skinny jeans is a classic look that never fails us. The pop of red is the perfect addition as well as her dramatic sunglasses and slicked back hair style.
Happy holidays and safe travels to everyone this week!
What are you wearing to the airport?  Comment below!
xo Rainy